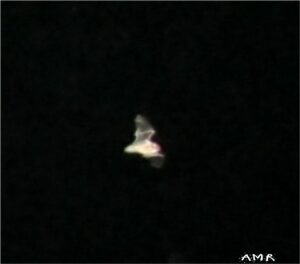 Why do so many people love bats and are those people themselves simply 'batty'? The FoCP September batwalk was well advertised in the local newspaper and, would you believe it, one hundred bat lovers turned up.
Bats are not the prettiest of mammals, their features are really quite ugly. I asked several people why they loved bats so much and most of them had no idea and, strangely enough, it was only the naturalists who equally like mice. Most others preferred bats to mice but, let's face it, dormice in particular, are far more handsome than those winged mammals.
Our advertising, together with a warm evening was certainly responsible for the large turn out, one hundred being the largest amount of people attending one of our nature walks, and it was nice to see several family groups. Several of the children said their interest in bats was the direct result of watching the vampire programmes on TV and film, especially the 'Twilight' series. We found no vampires on our walk.
Once again, our leaders on the walk were Mark Smith and Su Hooten of the Suffolk Bat Group. Mark briefed us on bat life, on what we were likely to see and, more especially, what bats we were likely to hear. For this purpose, he handed out several bat detectors. A shock even to our expert leaders was the first bat to be heard – a noctulel bat (Nyctalus noctula), this being one of our largest bats. As the evening was not yet dark, many of us caught a glimpse of this exciting mammal.
We headed north towards the ice-cream parlour with the children becoming quite excited by the noises made by pipistrelle bats (Pipistrellus pipistrellus) emanating from their bat detectors. Our walk continued through the Wildlife Reserve and down to the Round Pond. The seasoned bat walkers knew exactly what to expect in this area and once again the finale was breathtaking. With the water of the Round Pond illuminated by torches, bat watching became even more exciting. As the pipistrelle bats chased insects over the water, our bat detectors were constantly clicking with the sonar calls of the bats. Grey shapes flitted in and out of the torchlight with many bats coming so close to the watchers that it seemed possible to reach out and touch them.
Once again, on behalf of the FoCP, I would like to thank Mark and Su for sharing their expertise and generosity of time to the bat walkers and especially the youngsters. An added bonus to the proceedings was the return that very morning of Mabel, 'our owl', returning to her roost. Many of the bat walkers were introduced to this very special tawny owl.
Here are two of the recordings from our adventures