A hoard of Iron Age coins found in a pot in a field in Suffolk is to go on display at Christchurch Mansion from tomorrow (22nd June 2011) until October.
More than £316,000 has been raised (including £225,900 from the Heritage Lottery Fund) to buy the 840 coins and conserve and display them at the Mansion. The Wickham Market hoard was found in the spring of 2008 by two metal detectorists, who also found parts of a wheel thrown ceramic jar. After identification and cataloguing, it was concluded that most of the coins were struck between 40BC- 15BC.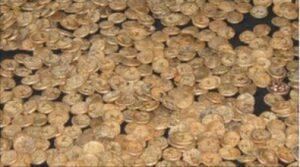 This is a period of time linked with perhaps one of the best known tribes of Celtic Britain, the Iceni. The Iceni tribe occupied what is now Norfolk, Cambridgeshire and Suffolk, and were immortalised after being led by Boudica in a large scale revolt against the Roman legions.
The Park's new Portfolio Holder, Councillor Bryony Rudkin, said: "This is a truly huge boost not only for the museums service but for the people of Ipswich, Suffolk and beyond who will now be able to see and learn more about this staggering find. It will prove to be a big visitor attraction for the town." Caroline McDonald, Ipswich Museum's Curator of Archaeology, added: "They're hugely significant – it's a once in a lifetime discovery."
The coins will be on display in the Mansion until October before touring to other museums in East Anglia. They will eventually be brought back to their permanent home in Ipswich.
Read about this on the BBC's Suffolk News Website.