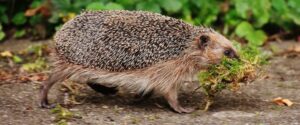 Join Ali North, Ipswich Hedgehog Officer for a morning of mammal surveying at Christchurch Park.
Help detect small mammals like mice, voles and hedgehogs by learning how to check Longworth mammal traps and footprint monitoring tunnels. This may bring close encounters with mice, voles and shrews, and the opportunity to learn how to identify mammals by their footprints. You will also be able to find out more about our Ipswich Hedgehog Project, how you can become a Hedgehog Champion and how you can borrow our survey equipment to monitor wildlife in your Ipswich garden!
Places are limited – booking is essential!
Please dress appropriately for the weather and wear suitable footwear. Parking will not be available in the park for this event. Please arrive 15 minutes prior to the start time, as we will need to leave promptly to start checking our traps. All children must be accompanied by an adult.
For more information about action you can take to help hedgehogs, click here